Mr. M, a 65-year-old retired teacher, went to his primary care physician for his first Medicare preventative visit. He was found to have elevated liver enzymes and chronic hepatitis C. After completing treatment for hepatitis C, the virus was completely eradicated. However, unfortunately, the virus caused irreversible damage to the liver, and Mr. M began to show signs of liver cirrhosis.
As a result of that diagnosis, doctors recommended that Mr. M undergo biannual liver ultrasound screenings for hepatocellular carcinoma. Unfortunately, his second ultrasound screening showed at least two suspicious liver nodules concerning for cancer. Computed tomography (CT) imaging of the abdomen with an iodine contrast agent confirmed one 2.5 cm nodule that was suspicious for hepatocellular carcinoma with no evidence of metastatic disease. When his case was reviewed by a multidisciplinary tumor board, the team recommended an aortic valve replacement to optimize Mr. M's cardiac status prior to any cancer treatment.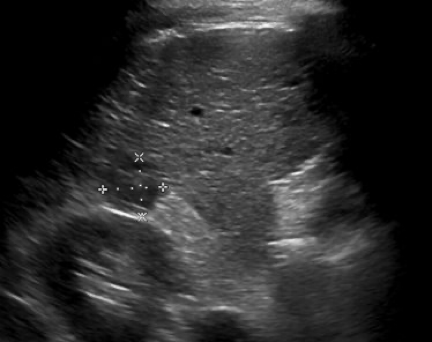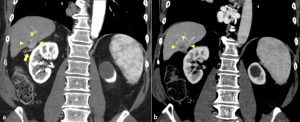 After the heart valve replacement, another CT imaging study showed a new extension of the tumor, suggesting the possible invasion into the adjacent vein – which could drastically change the treatment approach and preclude a liver transplant.
We then encouraged Mr. M and his gastroenterologists to consider a contrast-enhanced ultrasound (CEUS) scan for further evaluation of the blood vessels surrounding and feeding the tumor. CEUS uses ultrasound contrast agents to image the microcirculation and is unique in that it allows non-invasive assessment of liver perfusion in real time. This leads to increased diagnostic accuracy in the characterization of hepatocellular carcinoma. In contrast to other imaging modalities, CEUS is a fast, effective, well-tolerated, and cost-effective technique with high sensitivity for detecting malignant invasion into vasculature.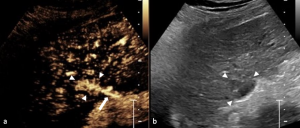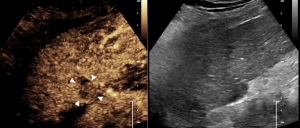 Fortunately, CEUS clearly showed that the tumor had not invaded the adjacent vein. It also identified an artery feeding the tumor from outside the liver, which was an important finding that could assist in local treatment options by interventional radiology.
Thanks to a relatively quick and easy CEUS exam, Mr. M. was able to quickly receive his first cancer treatment and join the liver transplant list for curative treatment of his cancer and cirrhosis.
As Mr. M's experience shows, the application of CEUS can effectively assist in staging hepatocellular carcinoma, influence the therapy of choice, and expedite treatment which significantly benefits patients.