Joey is a pleasant 5-year-old boy who was recently diagnosed with severe hypertension (high blood pressure) -- an unusual finding for a child. An ambulatory blood pressure monitor confirmed blood pressures of between 140 and 150 mmHg systolic, and between 90 and 100 mmHg diastolic. By comparison, normal values for a 5-year-old boy would be between 94 and 110 mmHg systolic and between 53 and 67 mmHg diastolic. Joey's high blood pressures were concerning because, if left untreated, childhood hypertension can lead to serious health problems including heart attack, heart failure or stroke at an early age, as well as kidney disease or failure, and visual loss
Joey's initial workup was inconclusive. An ultrasound scan with Doppler showed a mildly asymmetrical and enlarged left kidney, but other findings and tests appeared normal — including normal resistive indices (a prognostic marker in vascular diseases that affect the kidney) and a normal urinalysis (providing no suggestion of glomerulonephritis, a condition associated with inflamed kidney filters (glomeruli). Joey also had normal renal function, thyroid studies, metanephrines and renin. In addition, a single arterial phase CT angiography (CTA) focusing on the renal arteries was normal. Although Joey's blood workup showed mildly elevated levels of aldosterone, a hormone that may affect blood pressure, his aldosterone/renin ratio was normal.
Doctors then referred Joey for a renal angiogram, an invasive imaging test that uses x-ray dye administered through a catheter to examine the blood vessels of the kidney. Select images from fluoroscopic angiogram showed small tortuous vessels in the lower pole of the right kidney well as mildly decreased perfusion in the lower pole of the right kidney (red arrow, figure 3). Doctors attempted to use a tiny balloon to dilate the blood vessel but abandoned the effort because Joey's vessel was too small to allow the balloon to advance.
Finally, a noninvasive contrast enhanced ultrasound (CEUS) study was performed to assess the regions of Joey's right kidney that appeared abnormal on the angiogram. The study was performed with 3 ml of an ultrasound contrast agent, administered intravenously during the ultrasound study. The ultrasound contrast agent contains no dye and the procedure does not utilize ionizing radiation. CEUS allowed dynamic scanning in real time.
CEUS conclusively demonstrated the area of abnormal perfusion within the posterior pole of the lower pole of the right kidney – consistent with the angiogram. This abnormality was not seen on CT angiography.
On Joey's most recent clinic visit, he was doing well and his hypertension was improving with medical management.
In the future, when we examine other children with hypertension, we will consider using CEUS, either in conjunction with or instead of CTA, to help identify possible areas of hypoperfusion prior to angiography and intervention. We have found that CEUS helps in both surgical planning and counselling patients and parents. In addition, baseline CEUS images may be used to assess any future deterioration or improvement.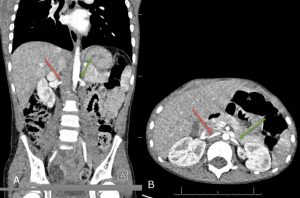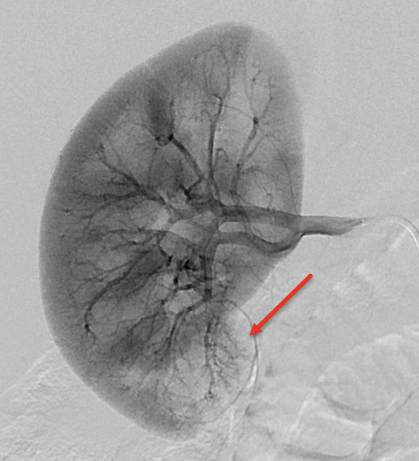 1 Dr. Foran thanks Interventional Radiology fellow Dr. Stephane Cajigas-loyola and IR Attending Physician Dr. Anne Marie Cahill for their contributions.
2 Not his real name.